Repertoires - A mobile midi player to help you learn new songs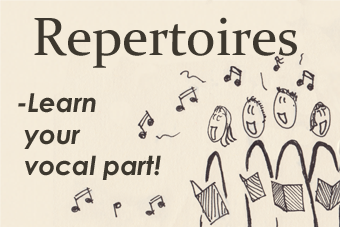 Repertoires is an app that allows you to learn your vocal part with the help of your android phone.
The app is under development and we appreciate all requests for functionality and comments about usability. Email us at repertoires.feedback@blackfisk.se
Download and try it out! The only thing we ask is that you give us some feedback once you've used it for a little while.

File support Repertoires currently only fully supports MIDI files of type 1. Type 0 is an older file type standard. These files can be played, but it is not possible to turn voices on and off. Type 0 will be supported in a later version of Repertoires.
If you have files that don't behave as expected, please email them to us at repertoires.feedback@blackfisk.co.uk for debugging. Thanks in advance!

How it works
Each part of a midi music file, vocal or other, has its own volume setting which is defined when the midi file is created.
With Repertoires, these volumes can be set individually, so that you can play your vocal part on a higher volume, while the other parts are heard in the background.
Test policy
Of course, we do everything we can to test our apps before posting them here. Tests of this app has been made on SGSII, ZTE blade, ZTE Skate, HTC Magic, LG Optimus. Should anything go wrong despite our extensive testing, we can unfortunately not take responsibility for that.

blackfisk is a small group of software developers, designers and usability specialists.

More about us.